You don't need to live in a cabin in the woods to capture the homely, private feel of a rustic country kitchen. The right design cues can bring that feeling of intimate folksiness into the heart of the city and wrap your modern cooking space up in the glow of country style.
Natural materials, weathered accents, and eclectic choices in finishes and decorations are the order of the day when you're cultivating rustic country kitchen design ideas. Don't be afraid to go bold! Choose a dramatic element and make it the centerpiece of your unique kitchen. Creating a rustic kitchen is all about expressing your personality.
Opting to use rustic design cues in your kitchen often means embracing unconventional surfaces. Make sure you check exotic materials (from weathered wood cabinets to copper countertops) for durability and food safety. Remember that a great country kitchen is comfortable and useful as well as beautiful!
As you'll see in the examples below, going rustic doesn't necessarily mean you have to sacrifice the beauty and utility of premium materials. Top-quality counters, cabinets, and appliances can blend seamlessly into a rustic design scheme, adding cutting-edge convenience to your timeless aesthetic sense.
1. All White is All Right with Rustic Natural Accents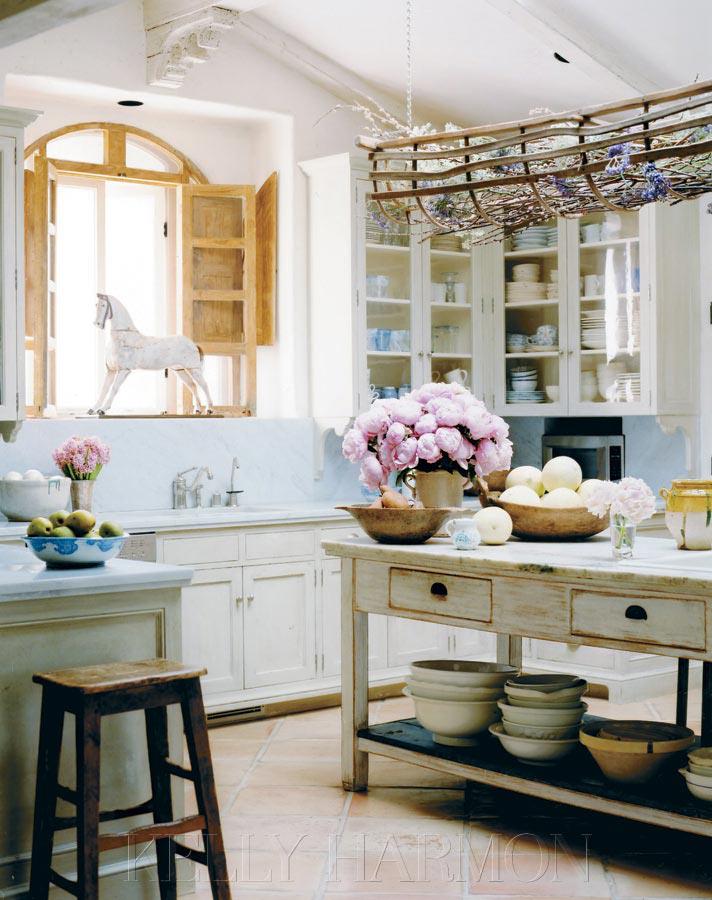 Source: eefurnish.com
An all white kitchen can look sterile, but that's not the case in this rustic kitchen. Here there are enough shades of white and enough pastels and neutrals to make the space look warm and welcoming. The pot rack above the rustic prep table becomes the perfect place to dry flowers and herbs, the glass-fronted wall cabinets show off pastel dinnerware in soft shades of blue and cream.