If the kitchen is the heart of the home then the island in your kitchen is your home's heart of hearts.
A kitchen island can take many forms, but has at its core the concept of a central location in the home where faces are turned together and magical memories are formed. Utility and satisfaction meet across its varied surfaces as the preparation of food and the enjoyment of the subsequent meal often merge and become blurred together. Conversations are fostered and relationships nurtured in the hours spent lingering in the contented glow of a hearty meal. After the dishes are cleaned and put away, often at the built-in sink and cabinets, the island becomes a game table. In short, it is a social hub.
When you have an island in the center of your kitchen that is right for you and your lifestyle you will wonder how you ever functioned without it!
So enjoy this list of 15 kitchen design tips for 2018 and you just might be inspired to create the island of your dreams!
Kitchen island lighting is highly customizable and you will surely find just what you are looking for, whether it is LED track lights or dazzling pendant lights.
A well planned island can help you to be more organized and efficient in your kitchen. It can be as simple as a small rectangle counter on wheels with a couple of drawers to extend your workspace or your island could be so big that it is the biggest and best thing about your kitchen. An island can be outfitted with a sink or a stove top where you can work while chatting with family members.
Invest in a kitchen island with seating and your guests will have a comfortable place to sit as they help chop up veggies for their supper. Your children will have memories of watching you pack their lunches while they perch on the stools eating breakfast. The variety in kitchen island design ideas can seem dizzying at first glance. Remember that your decisions don't need to be based on what others have done – but instead on what your needs and desires are.
1. Perky And Playful Kitchen Island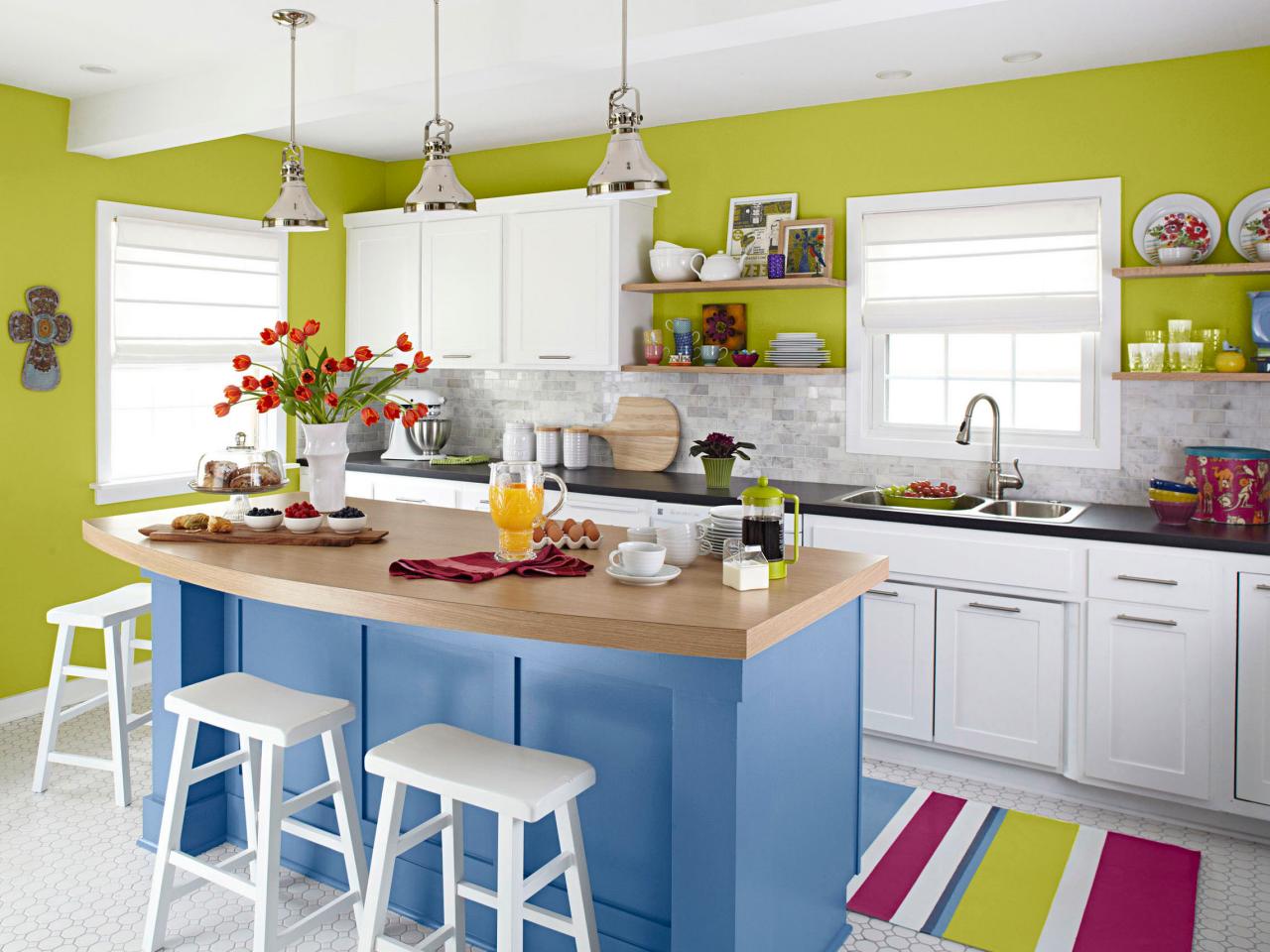 This kitchen design is playful and bright. The white stools clustered around the workspace beckon family members and visitors to lend a hand with food prep. The color palette is both grown-up and bold. The trendy hue of blue used to paint the lower portion of this island will stand up well to the wear and tear that comes with daily life. Notice how the countertop curves along the edge which lends character while softening edges and creating a customized look. The three reflective pendant lights keep things bright on the workspace where you need light the most. A kitchen island design such as this gives a playful air to the kitchen space.