There's just something so inviting about the soul-calming appeal of a country style kitchen! Farmhouse kitchen design tugs at the heart as it lures the senses with elements of an earlier, simpler time. Neutral tones lend a sense of peace to the atmosphere.
How to Restyle Your Kitchen with Contemporary Farmhouse Flair
Old-fashioned wooden tools invite cooks to slow down and create wholesome meals from scratch. Handmade baskets and decorations call to mind a culture of craftsmanship. Vintage artifacts pay homage to beloved relatives and commemorate family history. The farmhouse table, often distressed and encircled by a mismatched collection of chairs, stools and benches, encourages life and laughter shared around the family table. Furthermore, the country kitchen draws much of its design from nature, showcasing the beauty of earth's bounty.
Most importantly, farmhouse kitchen design invites you to take a moment to savor life's simple pleasures. If you're ready to take the blissful plunge into redesigning your own kitchen sanctuary, check out our carefully curated list of the Internet's dreamiest farmhouse kitchen decor ideas. The images we've collected are sure to inspire you for your own renovation of heart and home.
1. Farmhouse Color Scheme: Soft Silver, White & Wood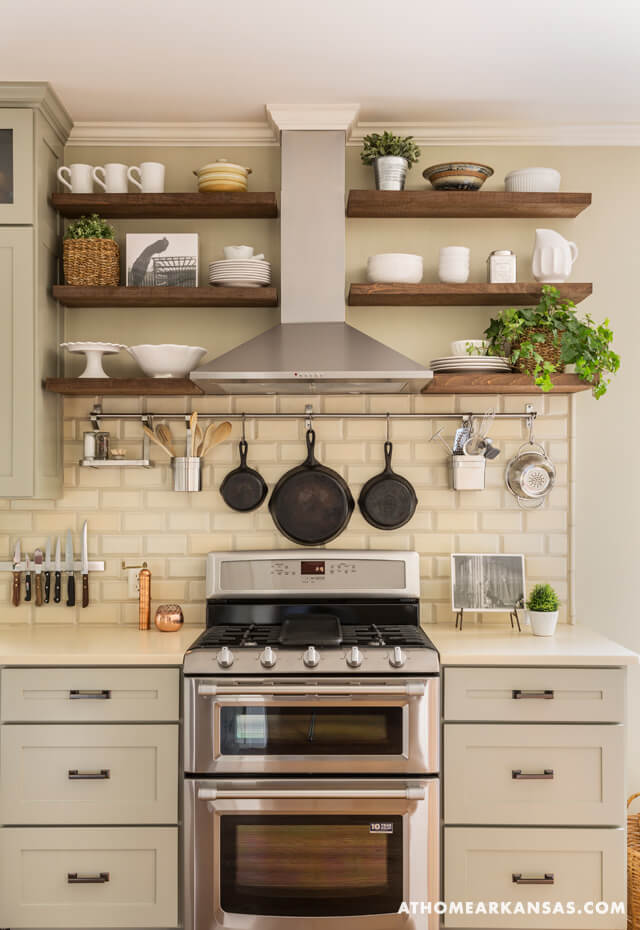 A neutral color palette, real wood shelves, stainless steel and new cabinets give this 1930s kitchen not only more style — but more function. It's modern and economical for the person who loves a beautiful, budget-friendly kitchen.