Today's kitchens are far removed from those of our mothers and grandmothers. Traditionally, their kitchens were a little old world and country, with roosters and apples galore. They may have had some diverse elements (though not many!) and certainly had a more rustic feel. Warm wood was the texture seemingly everywhere, from the floor to the cabinets and even the table. The devil is in the detail with both past and present, but the meaning is vastly different.
Cabinetry in traditional kitchens was often framed or flush inset. They featured a glazed or antiqued finish, with raised doors and exposed hinges. There were often ornate moldings in and around the cabinets as well as the islands and walls themselves. Farmhouse sinks abound. Decorative lighting, such as that now found more in dining rooms (think crystal and brass chandeliers or lanterns), were often seen in more classic kitchens.
Now, these trends have given way to sleek lines and clutter-free design. Cabinets are no longer the ornate and etched beauties they once were; they are now seamless and smooth, yet functional. White is an excellent choice for modern style. However, you are not restricted as there are almost limitless choices for cabinet colors now. Hardware is largely unnecessary in these kitchens and actually fights the clean and unpretentious design. Often the cabinets are pull-out like the drawers for added convenience, and if there is hardware, it is likely industrial in feel.
Wood and brick of the kitchens of yore have been replaced by stainless steel. It is new and shiny in appearance – and not limited to the appliances. People today often opt for stainless steel in surprising elements, including the countertops, which add to the sought-after industrial feel of the space. Other choices for modern-style counters are concrete, marble, quartz and unpolished granite.
Another buzz word for kitchens today is modular – something unheard of in past decades when speaking of kitchens. Open floor plans are all the rage, as are massive islands to provide a gathering space. The following 44 images will introduce you to the modern marvels and offer a broad range of options for your own kitchen design ideas!
1. Pseudo Built-In Beauties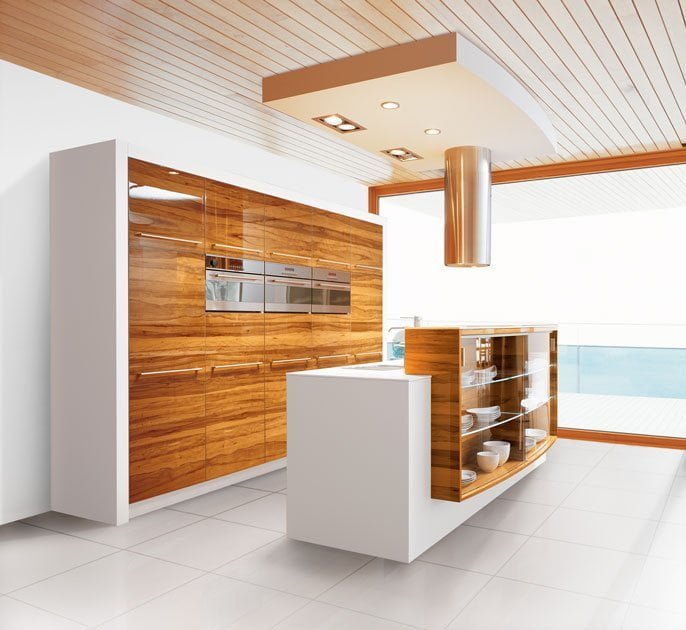 Love the look of built-in cabinets but don't want to tear down any walls? Turn your cabinet space into a wall unit for the look – sans the hassle! Doing so creates a masterpiece of kitchen design like shown in this modern kitchen. The high-gloss wood-grained cabinets feature low-profile, clean handlebars in polished silver that are set off by the matching built-in appliances and exhaust. The island performs multiple tasks that keep this space uncluttered, as it is home to the sink, stovetop and serves as a serving piece showcase that perfectly matches the cabinets and brings the whole room together.