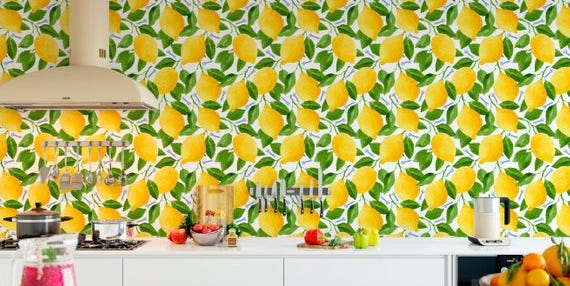 If you think wallpaper + kitchens don't really go together, you definitely haven't seen any of the rooms on this list. Whether you keep it confined to your backsplash, bar, or breakfast nook, or go all out and cover every single wall, wallpaper is a super cost-effective way to add a ton of bold color and pattern to your kitchen. We've rounded up some inspiration to get your creativity flowing.
1. 
Behind Your Bar
2. 
Marble
Get a marble kitchen without a full reno (or draining your bank account) thanks to some super convincing (and super gorg) wallpaper.
BUY NOW $36, etsy.com
3. 
Backsplash & Walls
Wallpaper both your backsplash and walls if you aren't afraid to go bold. To make it even more fun, give your kitchen a theme (like cats, in this case) to tie your wallpaper together with the rest of the room.
See more at Emily Henderson.
4. 
Banana Leaf Wallpaper
Never not dreaming of a beach vacation. To compliment the pink in the wallpaper, choose brass accents.
BUY NOW $37, etsy.com
5. 
Lemons Wallpaper
When life gives you lemons, you wallpaper your kitchen.
BUY NOW $6, etsy.com
6. 
Breakfast Nook Wallpaper
Keep your kitchen walls bare and wallpaper your breakfast nook to make the two spaces feel more separate. It also helps warm it up and make it feel cozier.
See more at Erin Gates Design.
7. 
Floral Wallpaper
Perfect for a country or farmhouse-style kitchen. To keep it from looking too feminine, keep decor rustic, choosing wood, stainless, and greenery.
BUY NOW $37, etsy.com
8. 
Black & White Wallpaper
If color scares you, try a black and white wallpaper. This one has a cool, industrial feel.
BUY NOW $21, etsy.com
9. 
Geometric Wallpaper
This black and white geometric print adds an art deco touch to this kitchen. Wallpapering a slim wall, like between a counter and an island, keeps it from feeling too overpowering.
See more at Erin Gates Design.
10. 
Backsplash
Instead of a tile backsplash, opt for a vinyl wallpaper. It'll save you a ton of money, and you can swap it out much easier.
BUY NOW $13, etsy.com