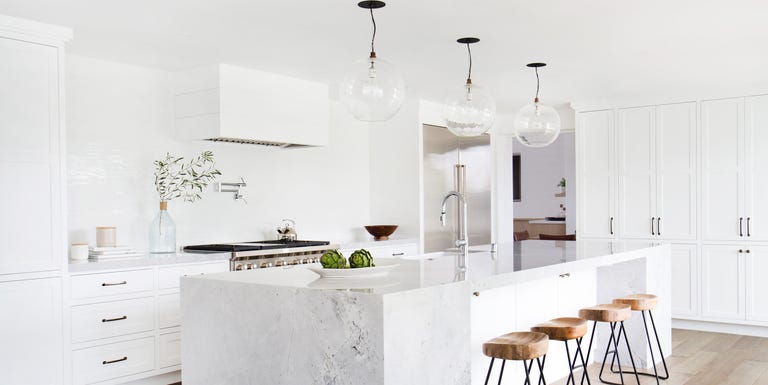 White kitchens are classic. They're bright, clean, and don't require a lot of stressful color decisions when decorating (because literally, everything is white). But white doesn't have to equal boring. We've got some inspiration for you from some insanely cool kitchens, and we promise no matter what your decorating style, you'll find something on this list you like.
1. 
Brass Accents
Accent an all-white kitchen with brass. It feels antique-y, but definitely not dated.
See more at Amber Interiors.
2. 
Industrial
Add a marble-and-iron island to give an all-white kitchen a more industrial feel. The base is perfect for storing pots and pans, and towels can hang on the sides.
See more at Lark & Linen.
3. 
Minimalist
Keep it sparse and simple. All you need to add some dimension to an all-white kitchen is wooden counter stools, and maybe a solitary plant leaf.
See more at Amber Interiors.
4.
Modern
White doesn't have to feel shabby chic. Add cool, geometric pendant lights to help it feel more fresh and current.
See more at Lark & Linen.
5. 
Greenery
Boxwoods and potted plants, on repeat.
See more at Lavin Label.
6. 
Thick Countertops
Not only is this island big enough for family dinners, but the Calacatta marble countertops measure a solid 2 inches thick. The extra heft gives this kitchen a more modern feel.
7. 
Warm Wood
Between the pale oak floors and butcher block counters, this Florida kitchen embraces an informal yet cozy aesthetic. Black latches on plank cabinetry lend extra vintage charm.
8. 
Small Kitchen
If you've got an insanely small kitchen, go with all white for a lighter and brighter space. Tiled walls, brass hardware, and a milk-glass chandeliermake it feel less monochromatic.
9. 
Endless Marble
A seamless slab of Calacatta Gold marble spans the wall behind this range, with the hood adding shine thanks to patinated pewter, stainless steel, and brass banding.
10. 
Textured Backsplash
Handmade Arabesque tiles make a super unique backsplash in a California kitchen.
11. 
Patterned Floor
Keep cabinets and walls all white and get dimension from your floor. Choose a pattern in a neutral color if you don't want it to attract too much attention.
12.
Cozy Nook
If you've got cozy seating, everyone will stay and hang out while you're cooking.
13. 
Diamond Tiles
Turkish terrazzo tiles to create a graphic floor, which perfectly accents the white subway tile.
14. 
Practical Kitchen
This oval island has open shelves at each end for easy access to a collection of ironstone. Hidden appliances, including a paneled fridge and dishwasher, feel cozier than the usual stainless steel.
15. 
Contrasting Hardware
Dark rustic hinges accentuate the country charm of this cottage kitchen.