We can never go very long between interior design inspiration posts which spotlight kitchens! Especially a French Country, French Farmhouse, or French Cottage style kitchen. My longtime blog pal Desiree of Decor de Provence fame just happens to have one of the most character-filled Provence-inspired kitchens around.
Located in Utah, this quality crafted French inspired home for her family is filled with collected antique treasures, rustic elegance, and the beachy colors Desiree loves: soft blue-greys and aqua-greens. The charming kitchen is a lesson in rustic elegance and a wonderful backdrop for a young family's memories. Though the family has collected treasures from around the world for this home, I have sprinkled in home decor and furnishing suggestions with affiliate links (if you use them, I may be compensated when you make a purchase.)
Let's take a closer look at design details and finishes in the kitchen and dining area inspired by European farmhouses, yet interpreted in a pleasingly personal way. (Stylist extraordinaire Bonnie Broten styled these dreamy images, and I recall Desiree raving about the experience…don't we all wish a stylist would show up on our doorstep with a fresh artful eye on our spaces?)
French Country Kitchen Decorating Ideas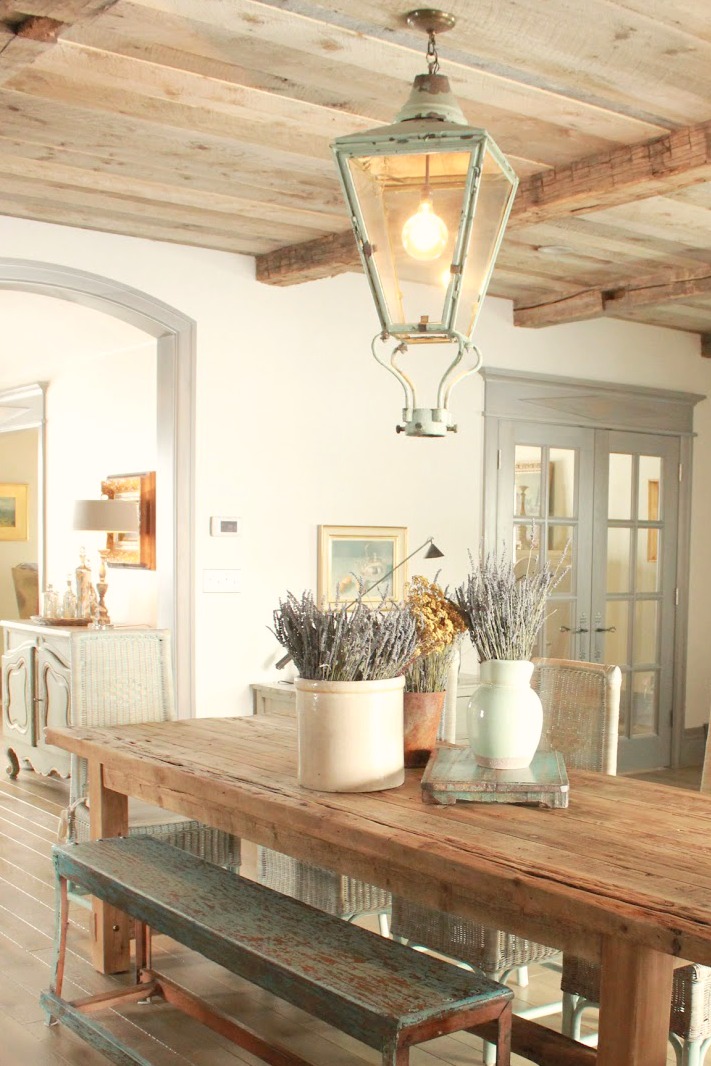 1. French Lavender.
I love how English and French lavender add an aromatic layer of lovely to the everyday. I learned lavender can mean devotion, luck, success, happiness or distrust (as far as floral language goes) and the following fun facts about lavender via GrowerDirect:
The name Lavender comes from the Latin verb, "lavare," which means to wash
Lavender comes from the same family as mint
Over 2500 years ago, lavender was used in ancient Egypt during the mummification process
Back in the Elizabethan times, when baths weren't common practice, lavender was used to perfume clothes and bed linen
The scent of lavender deters mice, flies, mosquitoes and other pests from the area
Lavender oil can be used to soothe aching muscles and joints, reduce anxiety and stress, and to induce sleep
It is a commonly used ingredient in potpourri
Nectar from lavender plants are used to make high quality honey
Lavender plants don't produce seeds; propagation is done by cutting or root divisions
Most lavender plants are blue or purple, but there are some varieties that come in pink and yellow