Granite is great. No one is denying that.
Its use in residential applications has skyrocketed in recent years. A 2012 survey conducted by Harris Interactive on behalf of The Marble Institute, found that 75 percent of homeowners who intend to remodel their kitchens in the next two years indicated they want granite countertops.
Granite's durability, longevity and good looks make it ideal for kitchen countertops and other heavily used surfaces, including table tops and floors. Still, it's expensive (typically $60 to $100 per square foot installed), it's extraordinarily heavy (requiring reinforcement of base cabinets) and requires considerable upkeep.
Beyond granite, there are a multitude of countertop options available and their number just increases over time. If you're in the market for a kitchen makeover, you may find one of these great, non-granite surfaces is just what you need:
1. Carrara marble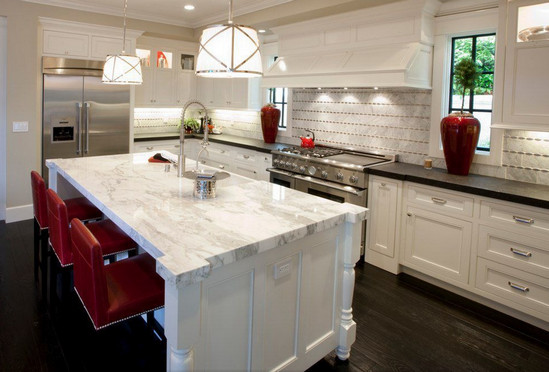 Marble is softer than granite, which means it stains and scratches. "But it creates its own patina when it does that," says Alan Zielinski, immediate past president of the National Kitchen and Bath Association (NKBA) and president and CEO of Better Kitchens Inc. in north-suburban Chicago. "That aging process gives the marble a nice, warm look. That warmth appeals to some people – if you're not one of them, you probably should avoid marble."